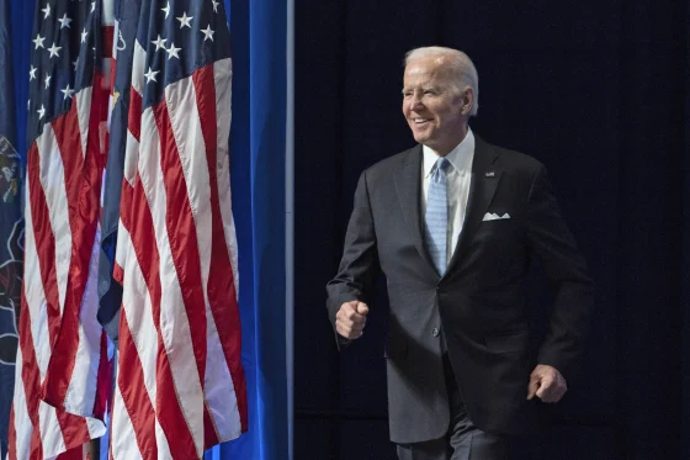 US President Joe Biden has announced he will run for re-election in 2024, setting the stage for a potential rematch with Donald Trump.
The Democrat had been expected to seek a second four-year term and launched his campaign in a video on Tuesday.
He said it was a pivotal moment with freedoms and rights under threat. "This is not a time to be complacent," he said. "That's why I'm running".
Vice-President Kamala Harris, 58, will once again be his running mate.
Mr Biden, 80, is already the oldest president in US history and is likely to face questions about his age throughout the campaign. He would be 86 after finishing a second full term in 2029.
"It's legitimate for people to raise issues about my age," he said earlier this year. "And the only thing I can say is, watch me."
Mr Biden faced off against Mr Trump in 2020, defeating the Republican after promising to "restore the soul of the United States".
"When I ran for president four years ago, I said we are in a battle for the soul of America – and we still are," Mr Biden said in the three-minute announcement video, which shows the president meeting a diverse range of Americans.
It also features images of the 2021 attack on the US Capitol, when supporters of Mr Trump stormed the building in an effort to overturn his loss to Mr Biden.
Mr Trump has already launched his bid for the presidency, raising the prospect that both men will face each other again on 5 November 2024. They are considered favourites to win their nominations although Mr Trump faces competition from the likes of Florida Governor Ron DeSantis.
His approval ratings remain negative by a significant margin but Mr Biden's hopes of re-election were boosted late last year when his party performed better than expected in the midterm elections.
He also has a series of legislative achievements to tout on the campaign trail, including a $1.2tn infrastructure bill and the marshalling of Western support for Ukraine since Russia's invasion.
There are currently two other announced candidates for the Democratic nomination – bestselling self-help author Marianne Williamson and anti-vaccine activist Robert Kennedy Jr.
The lack of any formidable rivals in his party allowed Mr Biden to set the timing of his announcement without significant external pressure.
His advisers have said he sees an advantage in drawing a contrast between his role governing the nation while his potential Republican opponents engage in partisan campaigning or – in Mr Trump's case – deal with criminal investigations.
The Republican Party responded to his announcement by describing Mr Biden as "out-of-touch" for thinking he deserves to be re-elected after "creating crisis after crisis" over the last four years.
The party's national committee chairwoman Ronna McDaniel said her party was united behind beating him in 2024, adding that US citizens were "counting down the days until they can send Biden packing".